Why Get A Chemical Peel On Your Face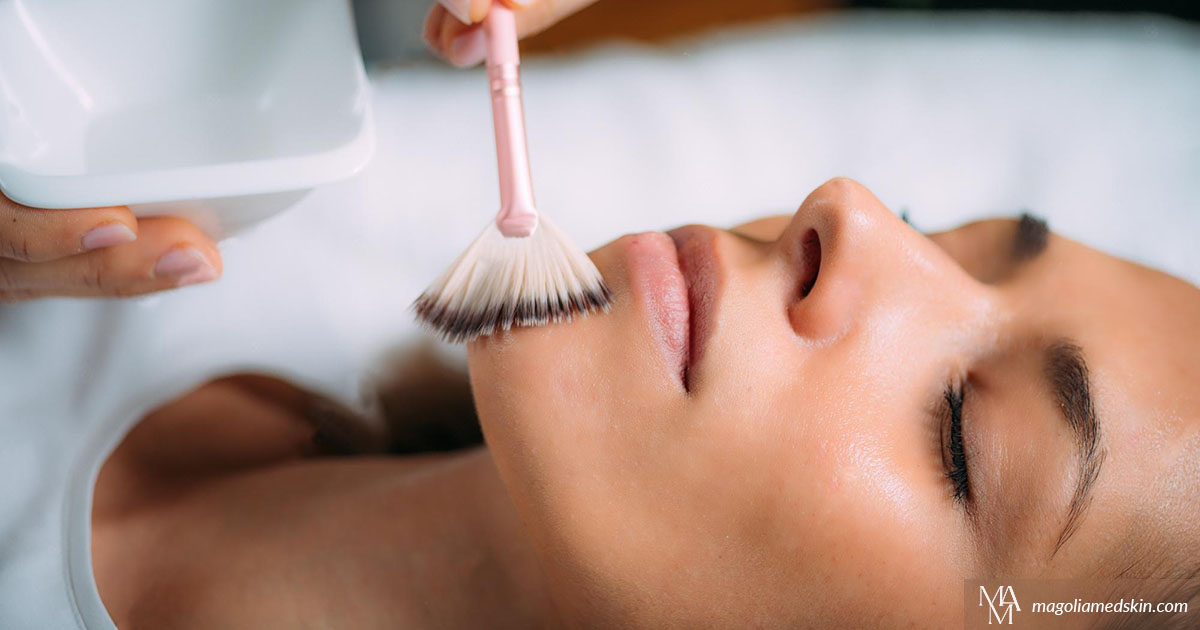 Environmental factors such as the natural aging process and sun exposure unavoidably lead to wrinkles forming on the skin. Additionally, aging skin can show bumps and age spots as well as unwanted pigmentation on the surface.
At Magnolia Medical & Aesthetics in San Antonio, Texas, we offer several kinds of chemical peels for skin rejuvenation to efficiently revitalize your skin.
Why Get A Chemical Peel On Your Face?
A chemical peel offers an alternative to surgical methods in an outpatient treatment that enables a fresh, new layer of skin to form. Wherever you receive the chemical peel treatment – face, hands, or neck – your skin is firmer and softer afterward. Our medical providers will work with you to help determine which type of chemical peel is best for your skin and the concerns you're looking to treat.
How Chemical Peels Improve Common Skin Concerns
During a chemical peel treatment, a chemical solution is applied to your skin. This solution peels away damaged skin cells which allows healthy skin to grow in their place. This may help improve common skin concerns, such as the following.
Wrinkles and Scars
One of the reasons why you would get a chemical peel on your face is because it's particularly suitable for treating certain areas. For example, crow's feet and smaller expressions. In addition to minimizing wrinkles, it reduces the visibility of other early signs of aging.
If your complexion has acne scars or shows irregularities, chemical peels even out your skin's surface and smooth the affected area. While this treatment help with smaller scars on the hands or face, it's not suitable for deep scars and wrinkles.
Aging Skin
Although aging is a natural process, environmental and behavior factors can accelerate it. For instance, exposure to the sun and harsh scrubbing. Sun exposure leads to photoaging, a process that discolors and wrinkles your skin. Photoaging is a direct result of all of the sun exposure you have had in your life. Spending a lot of time in the sun without sunscreen can cause your skin to become dry and leathery. As such, this is an ideal situation why you would get a chemical peel on your face.
Mild symptoms of photoaging can be prevented or reversed with chemical peels. The right chemical solution can decrease blemishes and acne scars, reduce dark spots, and even target skin imperfections. Another reason why you would get a chemical peel on your face is that our medical providers are experts at treating all ethnicities. For this reason, you can feel assured that your skin is in good hands. Depending on other problem areas we treat, we will help you select the best chemical peel treatment for your skin.
Chemical Peel Benefits
Peels that are chemical based are highly effective and help you avoid invasive surgery. Other benefits include:
Reduces fine lines
Shrinks pores
Stimulates skin renewal
Reduces age spots
Fades the appearance of acne scars
Magnolia Medical & Aesthetics leads the industry in the application and variety of chemical peels. In fact, we are the first choice for aesthetic treatments in San Antonio. To learn how a chemical peel can revitalize your skin, book your consultation today!
---
---
---