How To Treat Embarrassing Acne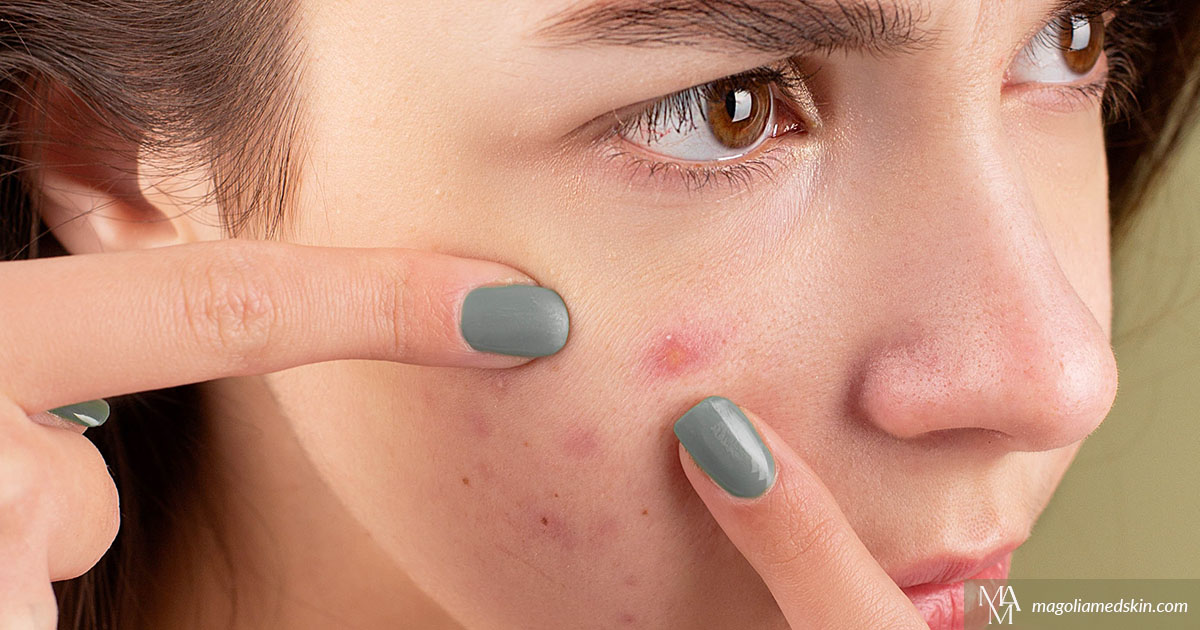 Having acne not only diminishes your quality of life, but it also can affect your self-esteem. Instead of hiding behind a mask or makeup, we have a better solution for how to treat embarrassing acne.
Our acne specialists at Magnolia Medical & Aesthetics in San Antonio, Texas know how upsetting acne can be. Particularly when it shows up in visible areas like your face. We invite you to visit our practice if your acne does not respond to home remedies. In addition to creating an individualized treatment plan, our medical providers will also provide a through skin analysis.
Because acne can be a problem at any age, patients can relapse even after it has cleared up. And some forms of can can leave scars that last a lifetime. If you opt for professional treatment, it can lessen outbreaks and stop new scarring from happening. When it comes to how to treat embarrassing acne, we don't just use the common acne treatments. Instead, we also offer aesthetic procedures that lessens the visibility of acne scars.
Causes Of Acne
Don't believe the myth that poor hygiene is responsible for acne. It occurs when glands make more oil (sebum) than it should. Acne is not a hygiene issue and just about everyone has a breakout at some point in their life.
When the skin glands on your back, face, or chest make excess sebum, acne forms. And most of the time, a change is hormones is to blame for this.
Because the androgens (male hormones) are found in both men and women, the stimulation of oil production can cause acne in both sexes. However, men and women don't produce the same amounts of it. In either case, if the natural balance of hormones in the body is disturbed, acne can be one of the undesired consequences.
How To Treat Embarrassing Acne
How to treat embarrassing acne depends on the severity of the acne. Medical grade chemical peels, microdermabrasion, deep pore facials, and laser resurfacing are all excellent therapies. However, treatment options are based on the location and type of acne.
We offer the following treatments for acne:
Chemical Peels
Several peels are performed over several weeks. Because an extended healing period is required, deep chemical peels happen once. After the full treatment, chemical peels removes damaged skin and clears up acne. The result is a healthier, clearer complexion.
Deep Pore Facial
Clogged pores are the target of a deep pore facial. Pores are opened with steam to allow for the extraction of blackheads and whiteheads. A cleansing treatment and face mask is applied to improve the skin's surface. If you struggle with oily skin or acne, you can especially benefit from this facial.
Microneedling
Skin treatment using an electric skin needling device that contains 12 very fine needles. However, microneedling is not usually performed on active acne as it can make breakouts more inflamed. For this and other reasons, microneedling is an ideal treatment for acne scarring after acne clears up.
Laser Resurfacing
This treatment uses intense pulse light laser to remove dead skin cells from clogged pores. It can blackheads, whiteheads, and some pimples. However, it cannot treat acne cysts or nodules.
Microdermabrasion
Microdermabrasion is best used for mild acne cases to boost your skin's appearance overall. Once your acne is fairly well controlled, and not as inflamed, you can then have your microdermabrasion treatment.
If You Have Persistent Acne, Come See Us!
Having an occasional pimple is normal. But if the annoying acne keeps returning or spreading under the skin, it's time to act and book an appointment. The sooner you do, the soon you can start individual therapy and prevent scarring.
---
---
---