Benefits Of Microdermabrasion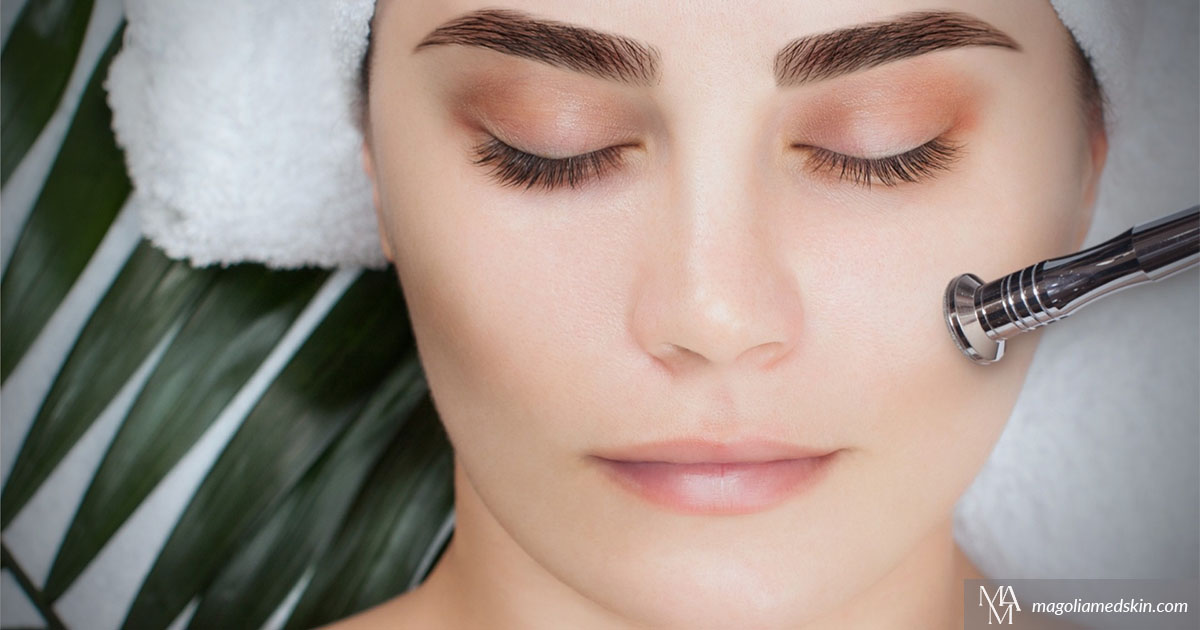 While many cosmetic treatments improve the appearance of skin, microdermabrasion is one of the most effective. Microdermabrasion uses crushed crystals to remove the top layer of dead skin cells. In addition, it can be used as an alternative to chemical peels and other method methods used to treat hyperpigmentation and scars.
The goal is to give the skin a smoother feel, youthfulness and appearance. This article discusses important information about 10 benefits of microdermabrasion.
Benefits Of Microdermabrasion
1. It Can Be Performed Regularly
Our skin is the first line of defense against free radicals and UV exposure. As such, we need to rejuvenate our skin after it has been fighting against all these factors.
Microdermabrasion is a reliable way to continually having glowing skin and can be performed regularly on a treatment plan.
2. Unclogs and Shrinks Pores
Dirt, oil and other debris are thoroughly removed from the pores by gently buffing the surface of the skin. Since there's less to hold, the pores become significantly less noticeable throughout the face as well as reduce in size. As a result, the face has a smoother appearance and frequency of breakouts are less due to unclogged pores.
3. Safe For Darker Skin
Some treatments like certain chemical peels and laser treatments are not suitable for patients with darker skin. However, the principles of microdermabrasion are practically universal. That is, we all face environmental skin damage, and we need and have collagen. Therefore, the benefits of microdermabrasion are also afforded to those with darker skin, even if your skin isn't suitable for other procedures.
4. Treats Acne Scars
In general, scars are multiple layers deep within the skin. However, much of the color and textural concern lies on the surface. This means microdermabrasion can trigger the body's healing response to flood the area with new elastin, collagen, and other proteins. These substances will blend the color with the surrounding skin and smooth out the peaks and valleys associated with acne scarring.
5. Microdermabrasion Provides Results After One Treatment
Oftentimes, topical treatments need time to reveal results. And although most nonsurgical options provide some immediate benefit, they are usually not exciting in the first few hours. In comparison, microdermabrasion does not have that problem. In fact, as soon as you begin the procedure, your face will appear healthier and more vibrant.
6. It Color Corrects Discoloration
Since most hyperpigmentation concerns are in the outermost layer of the skin, microdermabrasion focuses on removing this layer of tissue. The result is a healthier, more uniform layer of skin that environmental factors have not damaged. Acne scar, melasma, and even rosacea discoloration can be addressed fairly easily with this treatment.
7. Works On Oily Skin
Oily skin results from glands that produce too much sebum which makes the skin appear shiny and has large pores. Individuals with oily skin are also prone to develop acne and blackheads. For this reason, the benefits of microdermabrasion are huge for those with oily skin.
8. Safe Procedure During Pregnancy
There aren't a lot of treatments that are safe for pregnant women. No invasive procedures or chemicals are required during this treatment. Given that microdermabrasion is essentially a medical-grade exfoliation, there is no risk to pregnant women or women that may become pregnant.
9. It Can Reduce Stretch Marks
Speaking of pregnancy, dermabrasion can be used as an effective way to reduce the stretch marks that are associated with pregnancy. Because it's one of the few cosmetic options for pregnant women, it's a highly desirable treatment.
10. The Procedure Only Takes About 60 Minutes
If you have unique skin conditions or extensive corrections to treat, the session can take about one hour. On the other hand, most patients' sessions are generally between 30 and 45 minutes from start to finish. In essence, you can have the treatment performed during a normal lunch hour.
Microdermabrasion At Magnolia Medical & Aesthetics
At Magnolia Medical & Aesthetics, we are leaders in the aesthetic medical field. If you're looking for the best possible microdermabrasion treatment performed by experts, then our team is looking forward to being your trusted provider. Give us a call at (210) 600-3335 or request appointment online to get started.
---
---
---