6 Benefits Of Laser Hair Removal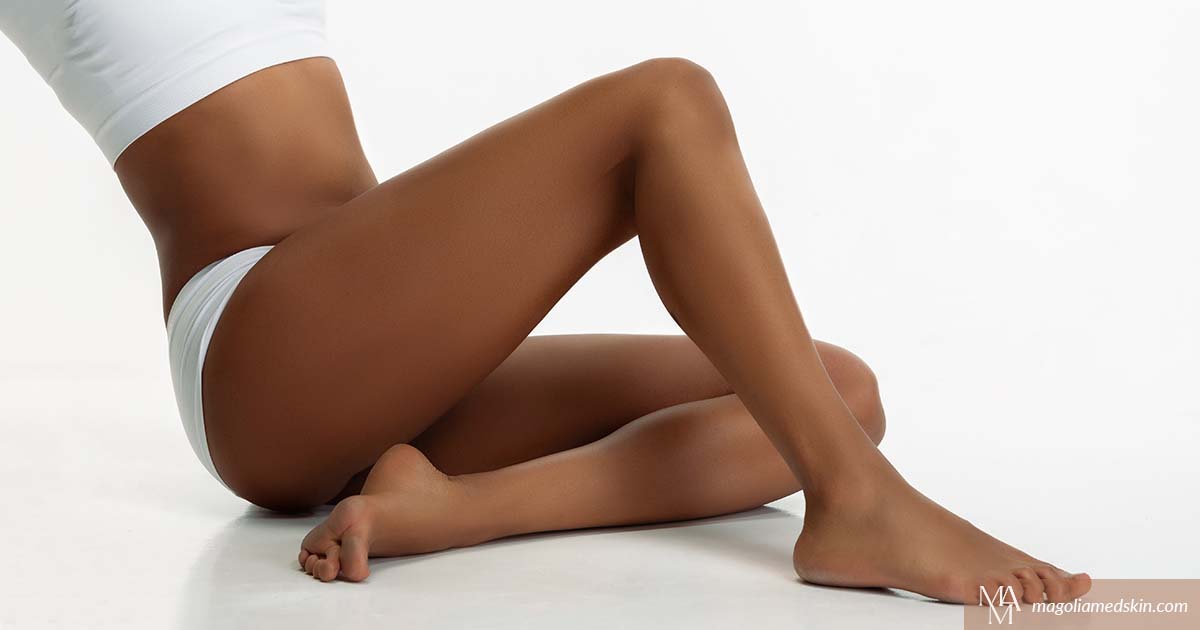 If you're looking to remove unwanted body hair, laser hair removal is a great option. The amount of body hair we want or don't want has changed over time as well as differs between cultures. Whether your preference is hairless armpits or smooth legs, it's a good idea to learn about the benefits of laser hair removal.
Over the past decade, laser hair removal has become a favored alternative to plucking, shaving, threading and waxing. You should definitely consider this treatment if you're thinking about a long-term solution for getting rid of unwanted hair.
Not only is this cosmetic procedure safe, but it's also effective in removing body hair with long lasting results. With Magnolia Medical & Aesthetics (MMA), you can see results after just a few sessions!
While this article discusses some important details about 6 benefits of laser hair removal, we highly recommend you read it in its entirety.
What Is Laser Hair Removal?
Laser hair removal is a noninvasive cosmetic procedure to remove unwanted hair on the body. A specially designed laser is used to remove unwanted hair by damaging follicles and preventing them from producing more hair. At Magnolia Medical & Aesthetics, laser treatments are performed by highly skilled and experienced aestheticians.
The energy produced by the laser is able to target the hair follicles due to is contrasting color as compared to the surrounding skin. When the laser's pulses attack the follicles and damage them, it prevents their ability to produce new hair.
Hormonal influences, coarseness of your hair, and area of your body will dictate the number of required laser hair removal sessions. However, at least five sessions are commonly required to eliminate the vast majority of unwanted hair. And each session is spaced about four weeks apart. Different from waxing or shaving yourself at home, the chances of irritation at the treatment site is extremely minimal. Plus, lasers also help prevent razor bumps and ingrown hairs.
Our laser hair device can treat almost any area of the body, including:
Legs
Chin
Armpits
Chest
Back
Bikini Area
6 Benefits Of Laser Hair Removal
The benefits of laser hair removal is a wide range for many different reasons. But here are six of the best:
1. Low Maintenance
Laser hair removal is a smart investment for those seeking a long-term solution for hair removal. Albeit annual touch-ups are recommended, that's nothing when compared to the time you would have spent waxing!
2. Quick
Laser hair removal procedure is short. Small body areas like underarms and chin will only take about 15 minutes! Even larger areas take a short amount of time allowing you to get in and out during lunchtime.
3. Leaves Skin Softer
One of the best things about laser hair removal is that it leaves your skin smooth and soft. Because laser targets the hair from the root, it pretty much guarantees there won't be any rough stubble.
4. Long-Term Solution
After the hair follicles are destroyed, they don't grow back. This means after multiple sessions, you get lasting results and won't have to deal with shaving and waxing ever again!
5. Targeted and Controlled
For certain areas of the body like bikini, precision matters. Laser allows us to remove hair quickly, but from the areas we target, right down to the centimeter.
6. Prevents Ingrown Hairs
The final benefit of laser hair removal is you can say goodbye to ingrown hairs. Since laser prevents regrowth of hair altogether, it minimizes the risk of itching, inflammation, and bumps.
Why Choose Magnolia Medical & Aesthetics For Laser Hair Removal?
In addition to providing a comfortable environment for patients and personalized consultation, we offer effective and safe laser hair removal treatments. Our medical providers will recommend an ideal treatment plan based on your individual needs. Call today at (210) 600-3335 for a personalized consultation, or use the button below to book online.
You may also enjoy reading: 5 Amazing Benefits Of Microneedling
---
---
---