Is Microblading Right For You?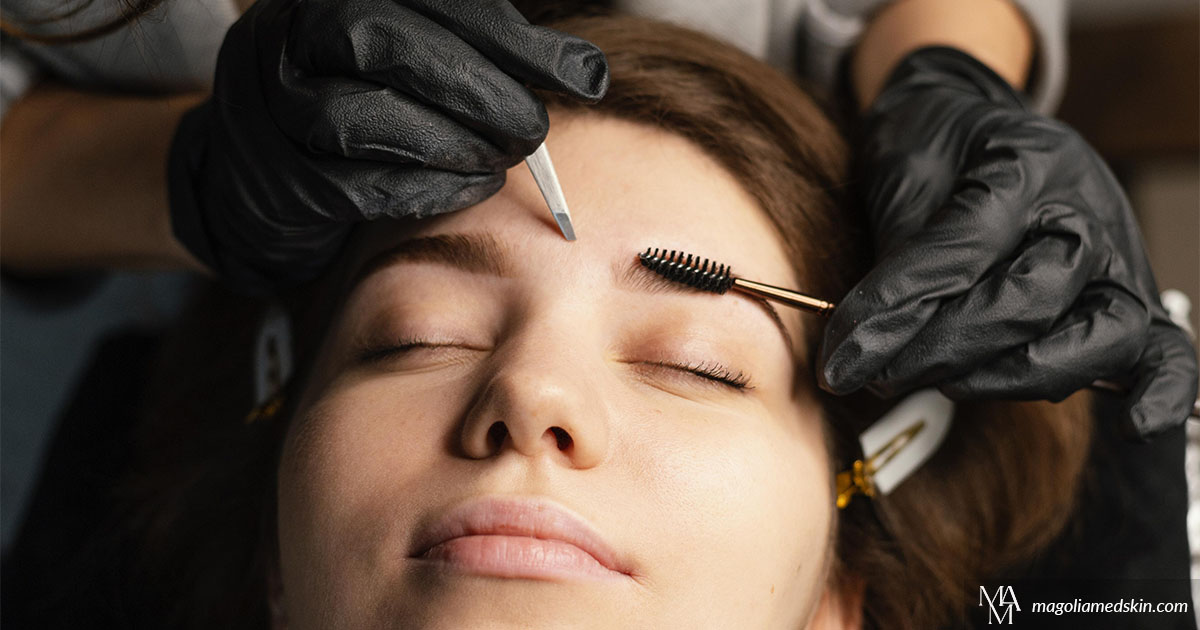 As we seek to achieve the perfect eyebrows, it can be a constant struggle. Not to mention, expensive, since oftentimes, you purchase the wrong brow products in a recurring cycle. For these reasons, you are left with thin, patchy, or uneven brows that can distract from your overall appearance. This can make most people feel less confident in their skin.
The solution to your brow problems could be microblading. It offers a permanent solution to define and enhance your brows. But is microblading right for you? And are you a suitable candidate? In this blog post, we will answer these questions by discussing various factors that can help you decide if microblading is the right choice.
So, What Is Microblading?
Microblading is a permanent cosmetic tattooing technique that creates the appearance of more defined and fuller eyebrows. It involves using a handheld cosmetic tattoo device to deposit pigment into the skin to mimic the look of natural brow hairs.
Even though microblading can be an ideal option for some people, there may be different eyebrow techniques for others. Is microblading right for you based on your skin type or other conditions? Here are the answers to this question.
01. Retin-A/Accutane
If you have taken acne medication such as Retin-A or Accutane within the last year, your skin condition is altered and will not heal well after the procedure. Therefore, you should wait a year before having your skin tattooed. Also, the use of Vitamin A and Retinol should be discontinued for at least a month before having microblading done.
02. Skin Conditions That Effect Microblading
Do you have skin conditions near your eyebrows? For example, rashes, eczema, shingles, rosacea, prone to keloids, or other conditions near your brows. In this case, you are not a candidate for microblading.
03. Large Pores or Oily Skin
Microblading may not be the best option for you if you have large-sized pores or oily skin. Due to the thin strokes blurring on the skin from releasing your natural body oil during the healing stage, the result may be patchy or uneven brows. Additionally, having large pores will not allow a smooth application of the strokes.
04. Anti-Aging Products
It's a good thing that anti-aging products' ingredients promote skin regeneration that reveals a healthier, fresher layer. But not so much when the use of these products conflicts with different procedures like microblading.
The skin rejuvenation process makes it difficult for microblading pigments to adhere to the skin and remain in place. In addition, using these products may cause the pigment to fade faster. Thus shortening the longevity of the results. So, be aware that if you're using anti-aging products on your forehead and are consider microblading, the results may not last as long as you would like.
05. Sun Damaged Skin
Is microblading right for you if you have sun damaged skin that has resulted in less elasticity and leathery skin? Having skin in this condition makes it harder for the pigment from the microblading process to the hold and stay in place. Moreover, the UV rays can cause the pigment to fade more quickly, resulting in a shorter lifespan for the results.
Is Microblading Right For You?
In addition to the above top 5 conditions or skin types, there are other reasons why you may not be a suitable candidate for microblading. For instance, if you have mature or wrinkled skin, an autoimmune disease, broken blood vessels close to the skin, or an active transmittable blood disease.
That being said, microblading is a great option for those seeking natural looking and defined eyebrows, if your skin is in good condition. And of course, if you also don't have any of the aforementioned concerns. But it's also important to remember that everyone's skin is unique and may react differently to procedures. The good news is that if microblading is not right for you, there are other eyebrow enhancing procedures. For instance, a soft powder style brow can be an excellent alternative.
For expert eyebrow guidance tailored to your needs, contact Magnolia Medical & Aesthetics in San Antonio. We are committed to helping you make the best decision to achieve the beautiful, confidence-boosting brows you deserve.
Request an Appointment at Magnolia Medical & Aesthetics
Book online or call (210) 600-3335 if you are interested in our microblading techniques.
---
---
---