What Are The Benefits Of Juvederm Voluma?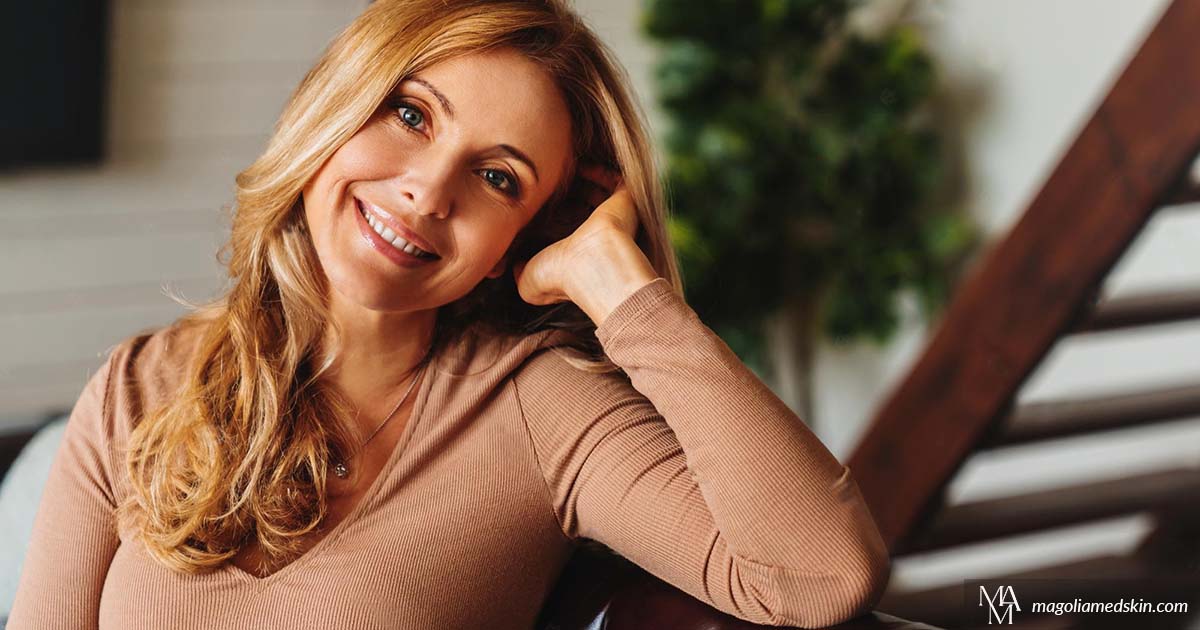 Deepening under eye circles and loss volume in cheeks are a few aging signs that begin to appear for women in their mid 30s. Luckily, there are several ways to keep signs of aging from detracting from your natural beauty, such as the benefits of Juvederm Voluma.
There are other signs of aging that show up on our face. For instance, smile lines around the mouth that hover like parentheses, are generally the first visible indicator that age is creeping up on us. At Magnolia Medical & Aesthetics in San Antonio, TX we offer cosmetic treatments like Juvederm Voluma to unwind the clock.
Because the aging process can change the way our skin looks and feels, it can cause us to feel comfortable in our own skin. So, if you're struggling with sagging skin, loss of volume in your cheeks, there is an effective anti-aging solution for you. And well, all of us :).
Continue reading for the top 6 benefits of Juvederm Voluma and bring back your face's youthful glow and natural fullness.
What Are The Benefits Of Juvederm Voluma?
Since Juvederm Voluma is a dermal filler that contains hyaluronic acid, it's ideal for targeting signs of aging like wrinkles, sagging skin, and loss of volume in the face. But there's more – here are the top benefits of Juvederm Voluma.
1.

Ideal For Face Contouring

While dermal fillers are great for correcting imperfections, they are not all created equally. In fact, some fillers only erase the most obvious wrinkles and fill in enough volume to tighten the skin. As a face shaping filler, Juvederm Voluma can instantly improve your appearance. It works as a double-duty filler that empowers you to alter the shape of your face and perfect the way you look. Moreover, this filler can redefine your cheekbones and improve the appearance of your profile.
2.

Long Lasting Treatment

In general, dermal filler treatments typically last several months at a time. But a Juvederm Voluma treatment can last up to 2 years, which is longer than almost every other dermal filler on the market. The long-lasting effects of this treatment can be attributed to the unique hyaluronic acid formula it contains.

This solution provides the skin the important compounds it needs to use its own regenerative abilities to the fullest extent. So, even after the hyaluronic acid is absorbed into the body, collagen production continues.
3.

Instantly Lift and Fill Cheeks

This aesthetic treatment instantly lifts and fills the cheeks to give you a more youthful appearance. As we age, we begin to lose volume in our skin, particularly mid-face around the cheeks and jowls. When this happens, skin becomes saggy and makes us look much older than we are.
4.

Helps Produce Collagen Naturally

It might surprise you to know that many dermal fillers contain ingredients that naturally occur in the human body. As such, these natural compounds mean that fillers have few risks of side effects, such as allergies.

Having a healthy production of collagen is the key to youthful skin. Given that Juvederm Voluma help produce your own collagen, it's a gold standard for anti-aging cosmetic treatments.
5.

Perfect For Everyone

Almost every patient can benefit from Juvederm Voluma. Ideal candidates for this treatment are individuals who are not satisfied with their overall appearance and want to correct the way they look. You may be a good candidate for this treatment if you want to:
Correct moderate to severe skin laxity in the mid face.
Contour your jawline and cheeks.
Reduce the appearance of fine lines and wrinkles around the mouth.
Lift and fill your cheeks.
6.

Minimal Downtime With Quick Recovery

Although you can return to normal daily activities after treatment, it's advisable to avoid any kind of strenuous activity and overexposure to the sun. However, you may be allowed to wear makeup on the same day of your treatment. Some swelling and redness is common and will resolve themselves within hours after treatment. In fact, most patients are fully recovered from the treatment after 2 weeks.
Look Rejuvenated With Juvederm Voluma
Although smiles are always in style, they don't have to leave an obvious indentation on your face that ages you. We think Juvederm Voluma is the perfect anti-aging treatment to rejuvenate your appearance. If you agree, contact Magnolia Medical & Aesthetics to schedule your initial consultation. Our expert providers will be happy to answer any questions you have.
---
---
---